The Best Epoxy Resin for Tumblers
What is the Best Epoxy Resin for Tumblers?
Choosing the ideal epoxy resin for tumblers can be a challenging task. With various consistencies, curing times, and features available, it's essential to find the right product to ensure professional results for your tumbler projects. KSRESIN offers a range of high-quality epoxy resins specifically designed for tumbler applications. Their selection caters to different preferences and requirements, helping you achieve the perfect finish for your unique creations.
⬇️     Read the article below to learn more!     ⬇️

How to Choose an Epoxy Resin for Tumblers
When selecting an epoxy resin for tumblers, there are several factors to consider. These include the viscosity of the resin, its odor and VOC content, potential yellowing over time, and the working time of the product.
1. Viscosity of Epoxy Resin
Left - Epoxy Resin 10,000 cP
Viscosity refers to the thickness of a liquid. A higher viscosity epoxy resin will be thicker and take longer to self-level, which can be useful for creating specific designs. A lower viscosity epoxy resin will be thinner and spread more easily, making it ideal for creating a smooth, even surface. The ideal viscosity for your project will depend on your desired outcome and application technique. KSRESIN products have the viscosity listed on each product page as centipoise (cP).
Here are a few options of tumbler epoxies that we offer at KSRESIN:
---
2. Low Odor and VOC Free Epoxy Resins for Tumblers

Epoxy resins can have varying degrees of odor and volatile organic compound (VOC) content. Some epoxy resins have strong, unpleasant smells, while others are formulated to be low-odor or even odorless. Low-VOC or zero-VOC epoxy resins are better for the environment and safer for the user, as they release fewer harmful chemicals into the air. All KSRESIN Epoxy Resins are formulated to be low odor and VOC free.
---
3. UV Resistant Tumbler Epoxy - Yellowing and Hindered Amine Light Stabilizers (HALS)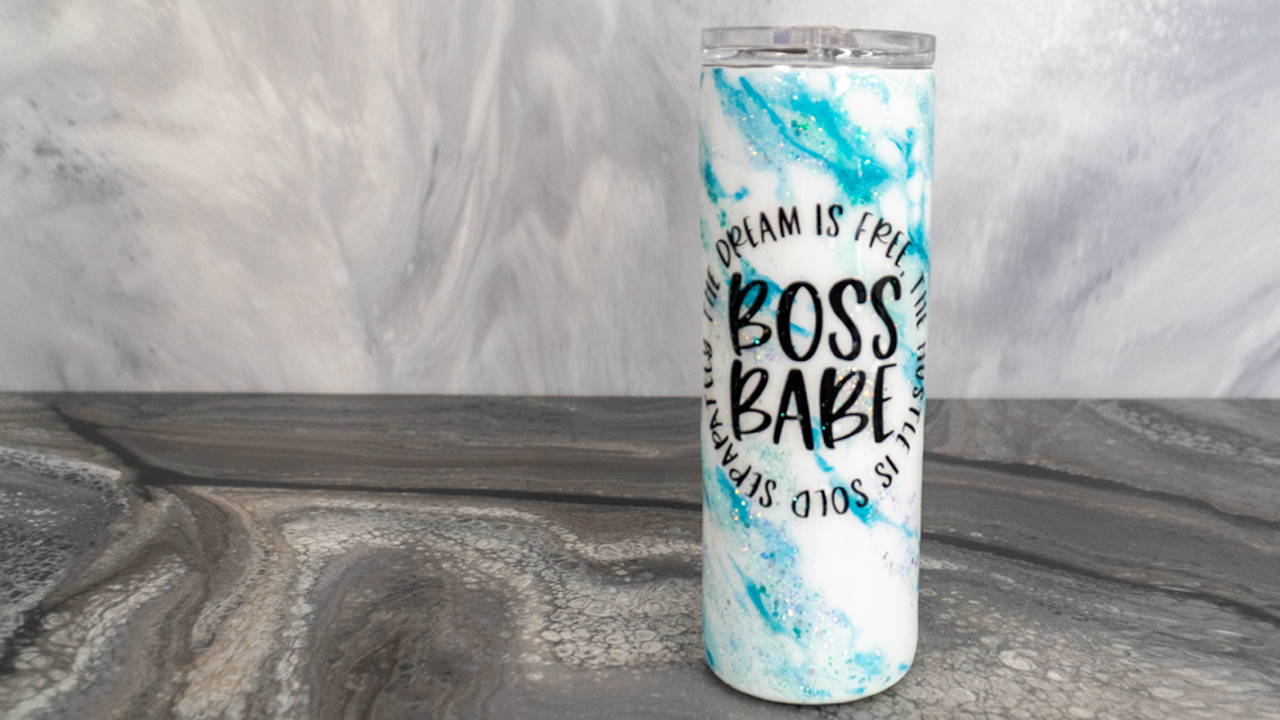 Unfortunately it is inevitable that epoxy resin will eventually yellow/amber from UV exposure. However, we add UV inhibitors into all of our products to extend the amount of time it takes before the product shows any signs of yellowing from UV exposure and we also offer our "Ultra UV" and "Elite" product lines which contain industry leading hindered amine light stabilizers (HALS) plus our UV inhibitors to ensure that our products are the best possible option for a UV resistant epoxy resin.
Our products are tested in a QUV Accelerated Weathering Tester to ensure that the UV additives perform properly and better than our competitors. A QUV Accelerated Weathering Tester reproduces a spectrum of UV light that the sun exposes us to so that we can analyze how long our products will last in comparison to other available coating systems. While we use the industry standard of testing, you can also do these tests at home to compare different brand's UV resistance.
If you are selling your epoxy tumblers, it is important to choose a product that will last and has excellent UV resistance like KSRESIN.
---
4. The Working Time of a Tumbler Epoxy

The working time of an epoxy resin is the amount of time you have to manipulate the product before it begins to thicken and become difficult to move. Different epoxy resins have varying working times, which can impact your application process. Long working times will allow you to finish more epoxy tumblers per mixed batch, while fast drying epoxy resins will help increase the speed of your projects. Here are three examples of epoxy resins that can be used for coating tumblers with different working times:
---
Choosing the Best Epoxy Resin for Your Tumbler Project

The best epoxy resin for tumblers is contingent upon your individual requirements and personal taste. By carefully evaluating these factors, you can make an informed choice that leads to a rewarding and enjoyable tumbler creation experience. At KSRESIN we offer multiple different epoxy resins that are excellent for creating and/or coating tumblers. Whether you are a beginner at making epoxy tumblers, or you are a professional with an epoxy resin business, we have the best epoxy for tumblers available.
If you need help choosing between our products please contact us and we will be more than happy to help you decide which is the best tumbler epoxy for you.
---
---