Introducing Liquid Cast Preservation Epoxy Resin – the ultimate floral preservation epoxy resin crafted for capturing the timeless beauty of your cherished flowers and creating stunning casting projects. Our two-part clear casting epoxy resin system is specifically formulated for preserving flowers in resin, making it perfect for wedding flower preservation, dried flower wedding bouquets, and other memorable flower resin projects.
Designed for pours between 1/2" and 2" in small to medium molds, Liquid Cast Preservation Epoxy Resin offers incredible clarity and a high-gloss finish. With its easy-to-use 1:1 mixing ratio by volume and low viscosity of 1,800 cP, this resin flower preservation solution provides excellent air release for bubble-free casting.
Ideal for preserving real flowers in projects such as bookends, charcuterie boards, automotive shift knobs, wine stoppers, paperweights, and more, Liquid Cast Preservation Epoxy Resin ensures your wedding floral preservation and other flower resin projects are both beautiful and long-lasting.
Please note that Liquid Cast Preservation Epoxy Resin is not intended for use with small jewelry items, shallow pours, or as a coating system. Pours under 1/2" may remain flexible. To prevent yellowing, cracking, shrinkage, and minimize bubbles, pouring in layers is recommended.
Preserve the beauty of your special moments with Liquid Cast Preservation Epoxy Resin – the go-to solution for flower resin preservation and casting projects.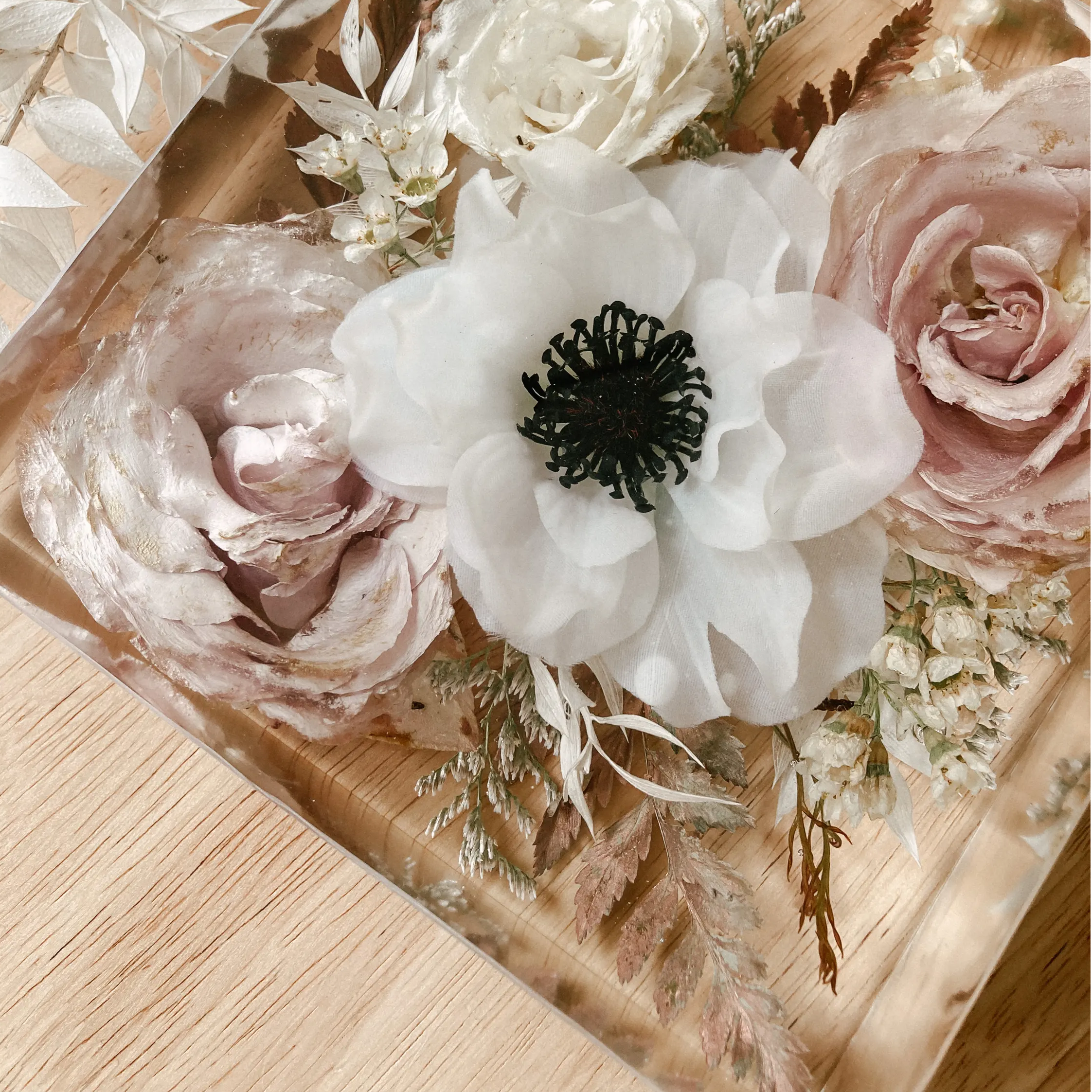 Key Features of Liquid Cast Floral Preservation Epoxy:
✔️ 45+ Minute Working Time
✔️ Dry in 12-36 Hours
✔️ Excellent Air Release
✔️ 1:1 Mixing Ratio by Volume
✔️ High Gloss Finish
✔️ Made in the USA
✔️ Low Viscosity
✔️ No VOC
✔️ Ultra-Clear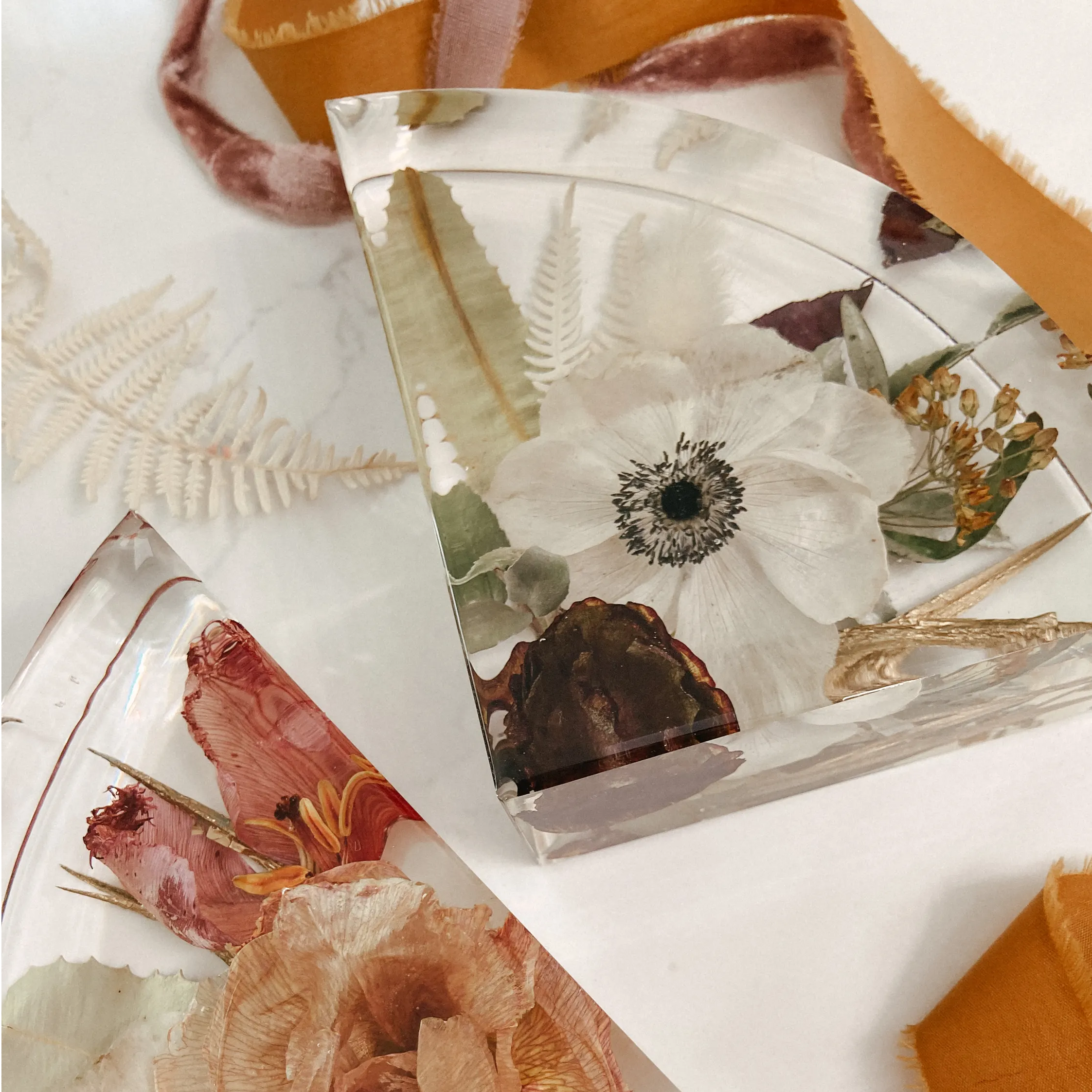 Step 1. Prepare for Mixing
Gather your epoxy resin, mixing supplies, and personal protective equipment. We recommend at the very least using nitrile gloves, safety glasses, clothing to protect from spills. Be sure to use epoxy resin in a well-ventilated room or use an air-purifying respirator.

Step 2. Calculate Coverage Area
Using a tape measure, measure the length, width, and depth of your mold and then input this information into the Epoxy Resin Coverage Calculator to determine how much epoxy resin you will need to fill the mold.
Step 3. Pour Epoxy Resin into a Mixing Container
Measure your desired amount of epoxy resin at a 1:1 ratio by volume into a graduated mixing cup. Pour the resin first, allow it a moment to settle, and then follow up with an equal amount of hardener.

Step 4. Mix Thoroughly for Four Minutes
Mix the two parts together for a total of four minutes. Be sure to scrape the bottom and sides of the container while mixing so that there is no un-mixed epoxy resin. Aggressive mixing can introduce excessive air, stir slowly but thoroughly. Continue to stir until the epoxy resin no longer has ribbons and returns to clear.

Pour the epoxy resin slowly into your mold in 1/4" increments. To minimize trapped air in your project pour in 1/4" increments, allow 1-2 minutes for air to surface, sweep your torch or heat gun over the surface to pop any bubbles, and repeat until you reach your desired depth.
Liquid Cast Deep Pour Epoxy Resin is not meant for shallow pours under 1/2" unless poured in layers. If poured under 1/2" the epoxy resin could remain flexible (depending on the mass and volume of the pour).

In most cases we recommend pouring at 1/2" to 1" to ensure the epoxy resin does not overheat during the curing process. It is better to start small and add layers as necessary than pour too much at once. Larger pours should be poured in smaller layers to prevent air entrapment and overheating.

Step 6. Use a Torch or Heat Gun to Remove Trapped Air
Quickly sweep a propane torch or heat gun across the surface being sure to keep the flame 6-8 inches away from the surface. Do not overheat the epoxy resin or hold the heat in one spot for too long. We recommend heating the epoxy resin only during the working time, do not apply heat once the working time has passed. After eliminating bubbles allow the epoxy resin time to cure in the appropriate environment (listed in Technical Data below).

Ensure that you are working in a well-ventilated room or using an air-purifying respirator.
Flower Preservation
Book Ends
Encapsulation
Automotive Shift Knobs
Wine Stoppers
Charcuterie Boards
Paper Weights
Medium Volume Molds

Ideal Curing Temperature - 65°F - 80°F
Working Time - 45 Minutes
Dry to Touch - 12-36 Hours
Full Cure - 3-7 Days (Depending on volume and mass of pour)
Maximum Recommended Coating Thickness - Not intended for use as a coating system
Maximum Recommended Casting Thickness - 2" per layer
Temperature Resistance - 475°F
Shelf Life (Unopened) - 12 Months
Shelf Life (Opened) - 6 Months (Depending on environment)
Shore D Hardness - 60-70
64 Ounce Kit = 32 ounces Resin + 32 ounces Hardener
1 Gallon Kit = 64 ounces Resin + 64 ounces Hardener
2 Gallon Kit = 128 ounces Resin + 128 ounces Hardener
4 Gallon Kit = 256 ounces Resin + 256 ounces Hardener

Excellent product
I love using liquid cast resin for my flower preservation projects. I highly recommend it.
The Best
This is hands down the best resin I've ever worked with, if the bubble release doesn't speak volumes already the clarity is just incredible. I've produced some really phenomenal pieces thanks to liquid cast and KS Resin. What are you waiting for?
Liquid Cast™ - Floral Preservation Epoxy (Up to 2" for small molds)
Like water
I use KSresin for my flower preservation business and love the thin consistency and bubble release. It makes my pieces look crystal clear, like the flowers are suspended in water!
Liquid Cast™ - Floral Preservation Epoxy (Up to 2" for small molds)
Liquid Cast™ - Floral Preservation Epoxy (Up to 2" for small molds)
I'm SO happy I tried KS Resin!
Of the MANY resin brands I have tried, none of them is as clear as KS Resin is. I would highly recommend this brand!
Deep Pour Resin
I just love this brand KSresin. I have tried many brands. By far this is the clearest resin for flower preservation & minimal bubbles. I will continue purchasing it for my floral work.
Perfect!
I'm still learning how to work this particular style resin, but definitely not disappointed! I've been using art resin for 3 years and liquidy split since it released. Definitely my favorite resin!