---
Crystal Cast - 1" Casting Resin
Crystal Cast was developed for casting and encapsulating small objects with improved hardness and clarity. This product can be used from 1/8" and up to 1" depth of pours, depending on the dimensions and volume of the pour. Crystal Cast is measured at a 2:1 ratio by volume, meaning you will measure two parts of Resin to one part of Hardener.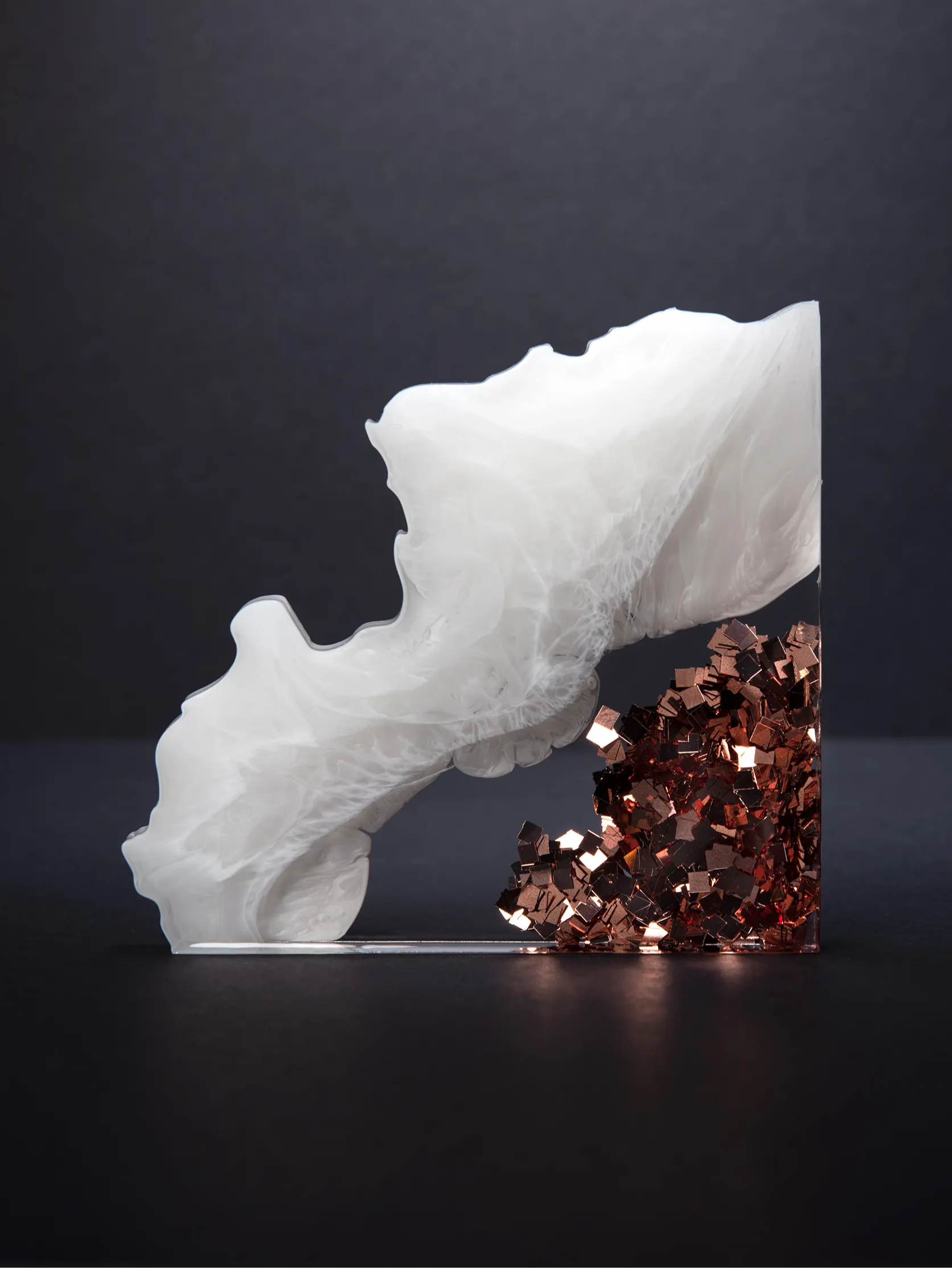 ✔️ 45+ Minute Working Time
✔️ Dry in 12-24 Hours
✔️ Excellent Air Release
✔️ 2A:1B Mixing Ratio by Volume
✔️ High Gloss Finish
✔️ Made in the US
✔️ Low Viscosity
✔️ No VOC
✔️ Ultra-Clear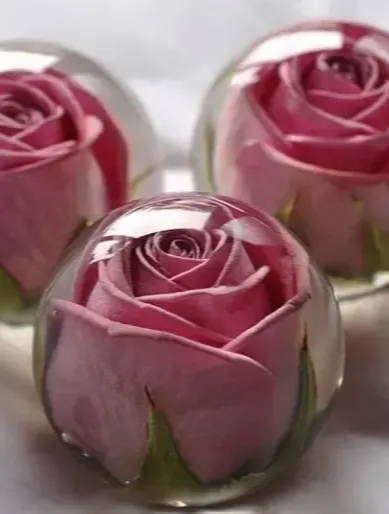 Step 1. Prepare for Mixing
Gather your epoxy resin, mixing supplies, and personal protective equipment. We recommend at the very least using nitrile gloves, safety glasses, clothing to protect from spills. Be sure to use epoxy resin in a well-ventilated room or use an air-purifying respirator.

Step 2. Calculate Coverage Area
Using a tape measure, measure the length, width, and depth of your mold and then input this information into the Epoxy Resin Coverage Calculator to determine how much epoxy resin you will need to fill the mold.
Step 3. Pour Epoxy Resin into a Mixing Container
Measure your desired amount of epoxy resin at a 2:1 ratio by volume into a graduated mixing cup. Pour the resin first, allow it a moment to settle, and pour the hardener.

Step 4. Mix Thoroughly for Four Minutes
Mix the two parts together for a total of four minutes. Be sure to scrape the bottom and sides of the container while mixing so that there is no un-mixed epoxy resin. Aggressive mixing can introduce excessive air, stir slowly but thoroughly. Continue to stir until the epoxy resin no longer has ribbons and returns to clear.

Pour the epoxy resin slowly into your mold in 1/4" increments. To minimize trapped air in your project pour in 1/4" increments, allow 1-2 minutes for air to surface, sweep your torch or heat gun over the surface to pop any bubbles, and repeat until you reach your desired depth.
Step 6. Use a Torch or Heat Gun to Remove Trapped Air
Quickly sweep a propane torch or heat gun across the surface being sure to keep the flame 6-8 inches away from the surface. Do not overheat the epoxy resin or hold the heat in one spot for too long. We recommend heating the epoxy resin only during the working time, do not apply heat once the working time has passed. After eliminating bubbles allow the epoxy resin time to cure in the appropriate environment (listed in Technical Data below).

Ensure that you are working in a well-ventilated room or using an air-purifying respirator.
Flower Preservation
Encapsulation
Automotive Shift Knobs
Wine Stoppers
Paper Weights
Coasters
Trays

Ideal Curing Temperature - 65°F - 80°F
Working Time - 90 Minutes
Dry to Touch - 12-24 Hours
Full Cure - 7 Days (Depending on volume and mass of pour)
Minimum Depth of Pour - 1/8"
Maximum Depth of Pour - 1"
Temperature Resistance - 475°F
Shelf Life (Unopened) - ±12 Months
Shelf Life (Opened) - ±6 Months
Shore D Hardness - 70-80
48oz Kit = 32 ounces Resin + 16 ounces Hardener
1.5 Gallon Kit = 128 ounces Resin + 64 ounces Hardener
Award Winning Epoxy
Did I say Award Winning Epoxy? Yes I did! I will explain in a minute. First let me say I have been using KSResin epoxy exclusively now for more than a year. I have used several of the resins they make and love all of them. Lately I have been making projects requiring epoxy that specializes in deeper pours, so I have been using Crystal Cast Epoxy and it has been exceptional in everything I have created. I have made multilevel pours with paws, standing crosses, jewelry, coasters, and more. Now, back to my statement about Crystal Cast being award winning epoxy, recently I entered the Facebook KSResin group February challenge using Crystal Cast Epoxy to create my entry and I was so honored to be chosen as the winner for the February challenge! I believe Crystal Cast is why my project came out so beautiful and clear. I am convinced that KSResin Epoxy is superior and I really like working with the Crystal Cast Epoxy. It releases bubbles very well and is so crystal clear. I keep going back to it for most of my projects so far.
1" Casting
Worked beautifully, cured like a charm. Will most definitely be ordering again!
Crystal clear
This resin dried crystal clear! I love it!
Crystal clear cast!!!!
I absolutely LOVE using crystal cast. Bubbles disappear so quickly and looks phenomenal!!! First experience with casting resin & KSResin is AWESOME! Makes it easy & the end result is simple AMAZING!
Crystal Cast
Crystal Cast is very easy to use and gave me excellent results.
Great product!
I used several of your products but this one had no smell at all. I used it on my domino's set and etc...when cured there was no micro bubbles and was hard as a rock. The only problem I had was the slow set time. Great product please come out with a fast set soon.
Nice and clear
It's nice and clear. I'm still getting used to the longer set up time but coming along. Was more familiar with the regular resin which I'm finding out how to work with all of the different types. Great company to deal with
Love this
At first I was skeptical with a 2-1 mix ratio. I usually use the deep cast resin for my flower preservation-but this one has become my new favorite. Easy to mix and use. Both of my floral preservations came out amazing! I'll definitely order this again.
Crystal Cast 1"
I used Crystal Cast for the first time on a project that I was doing for a friend. It came out beautifully. I have been using KSResin products for a couple of years now and I have never been disappointed. No odor, very few bubbles and clear as glass results, makes them my go to for all of my resin epoxy needs.
Great Product-Watch your Mixing
First I want to say that I absolutely love this product. Zero smell, mixes like a dream and is hard as a rock when cured. My only issue with this product is the 2:1 ratio. I was very careful when I measured but I still ended up with a discrepancy at the end. I had about 4 ounces of A left with only 1 ounce of B left. I am sure somewhere along the way I was off in my measuring (although I am glad wherever that happened the product still turned out great). I am hopeful that one of these days this will be a 1:1 ratio. But I would recommend and will be buying more soon.