How to Make Tumblers with Epoxy Resin
Supplies for Making Epoxy Tumblers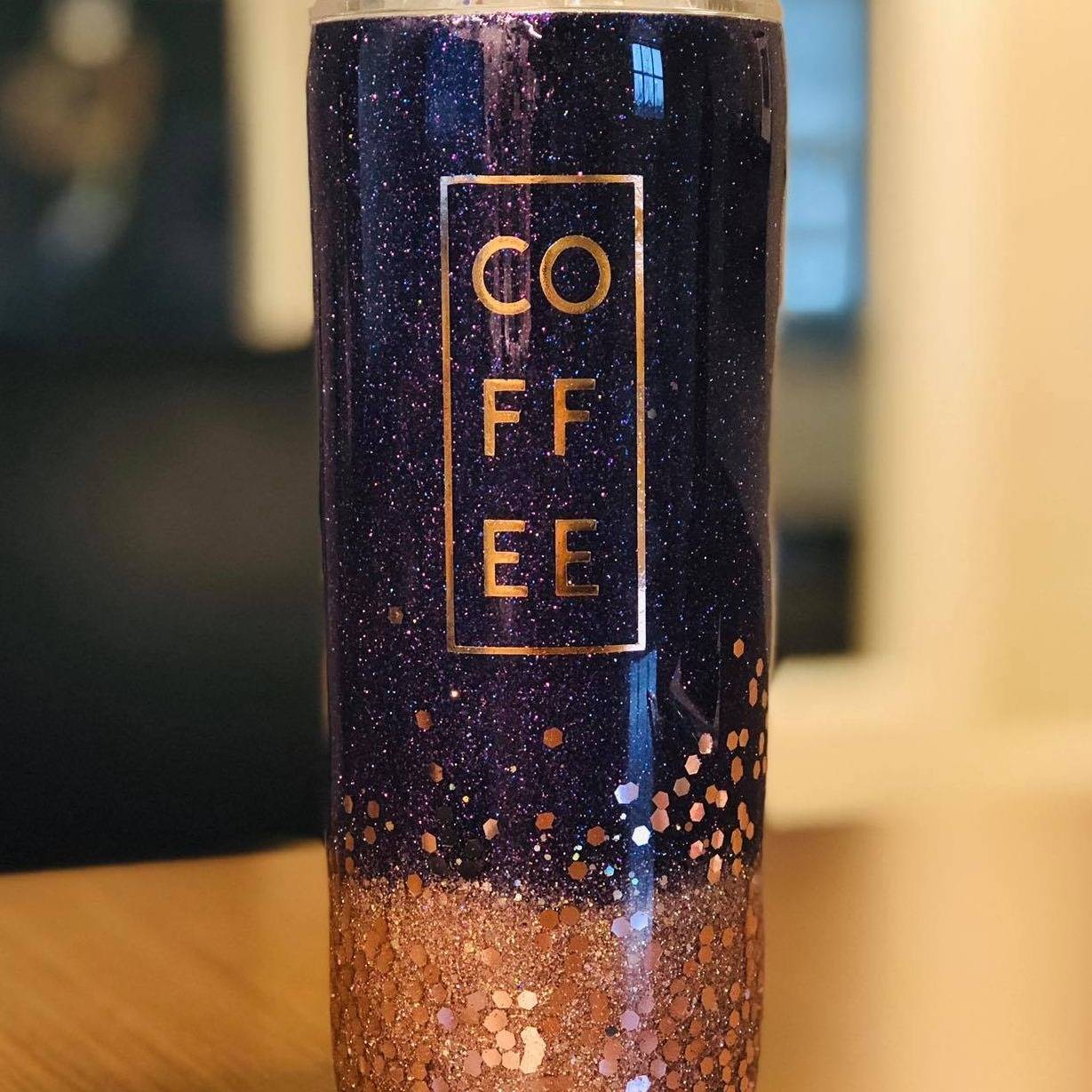 Making tumblers with epoxy resin is a fun DIY craft project with hundreds of unique customization possibilities that you can do at home.
Supplies for making epoxy tumblers:

Spray Paint

Glitter

Disposable Nitrile Gloves

Mixing Sticks

Vinyl (Optional)
Prepping a Tumbler for Epoxy Resin
After gathering your supplies for making epoxy tumblers, we will start with spray painting the tumbler. Take your tumbler outside or in a well ventilated area and completely coat the tumbler in your preferred color.Be sure to follow the spray paint manufacturer's guidelines of distance, temperature, and recoat times. Wait at least 24 hours before continuing to the next step to make sure that the spray paint has had enough time to dry completely!
---
Applying Glitter to an Epoxy Tumbler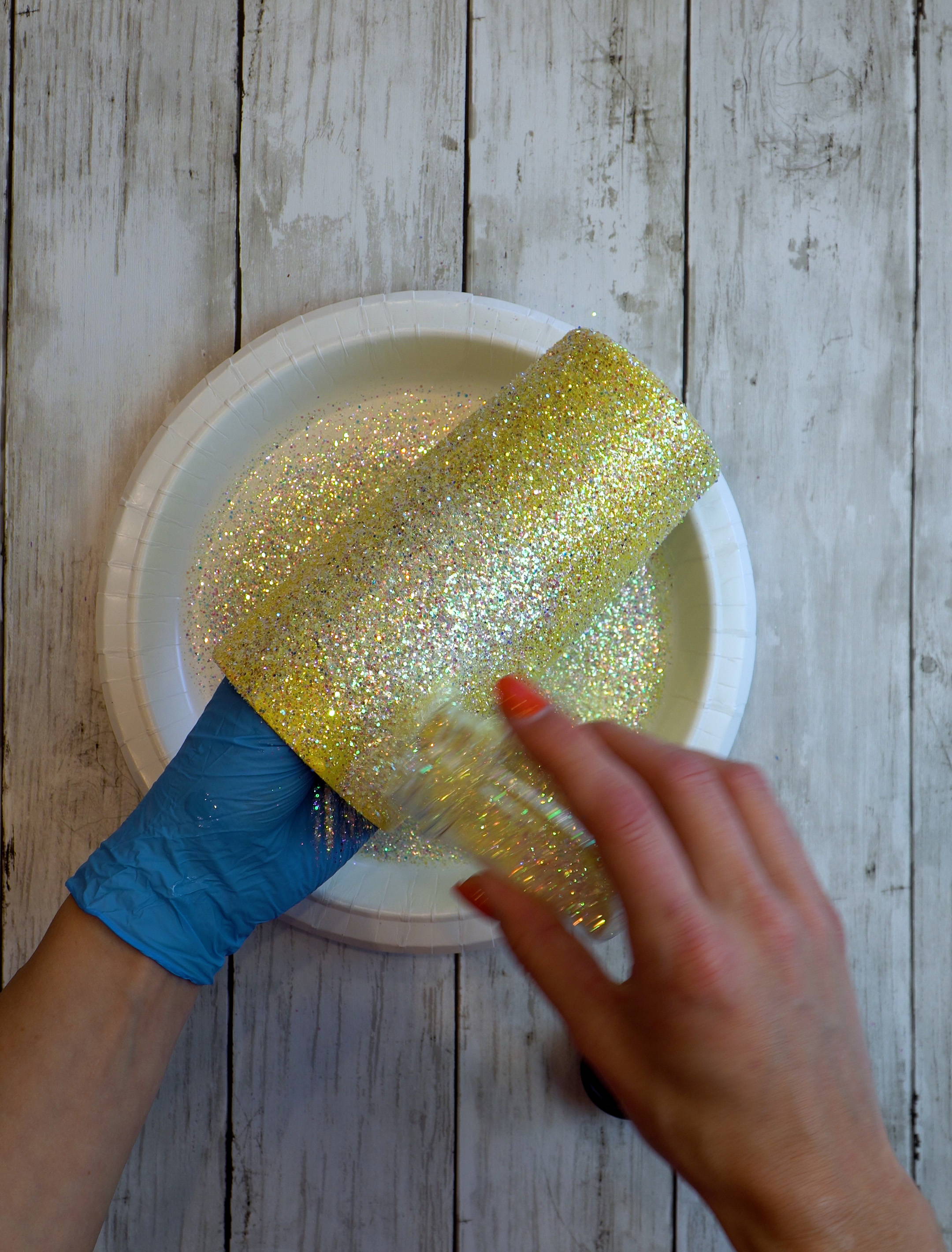 Now that our tumbler has been spray painted, the next step is applying glitter using epoxy resin.
Grab your Liquid Art Epoxy Resin, nitrile gloves, mixing stick, mixing cup, and glitter. Measure 15ml of Resin (Part A) and 15ml of Hardener (Part B) accurately in the mixing cup. Stir the two parts together for ~3 minutes, scraping the sides and bottom of the container, until there are no ribbons left in the mixture.
Using your gloved hand, dip your fingers into the mixing cup and apply a thin layer of the epoxy resin onto the surface of the tumbler. Once the surface is coated with epoxy resin, sprinkle glitter onto the surface.
After your tumbler is completely coated with glitter, allow the epoxy resin to dry for at least 4 hours.
TIP: When applying glitter to your epoxy tumbler keep a paper plate underneath to catch any excess glitter for future use!
---
Coating your Epoxy Resin Tumbler with Epoxy!
Your tumbler is looking beautiful with a coat of Liquid Art Epoxy Resin and glitter, but we're ready to apply more epoxy resin!
Put your glittered epoxy tumbler onto the tumbler turner arm and turn the tumbler turner on so that it begins rotating.
Mix another 15ml of Resin with 15ml of Hardener as you did before. With a gloved hand, apply the epoxy resin onto the surface of the glittered tumbler until it is fully covered.
Run your gloved finger up and down the tumbler to ensure that the epoxy resin is level.
Allow it to cure for 24 hours.
If you do not plan to apply vinyl, you can repeat this step until your glittered epoxy tumbler is smooth. Yay!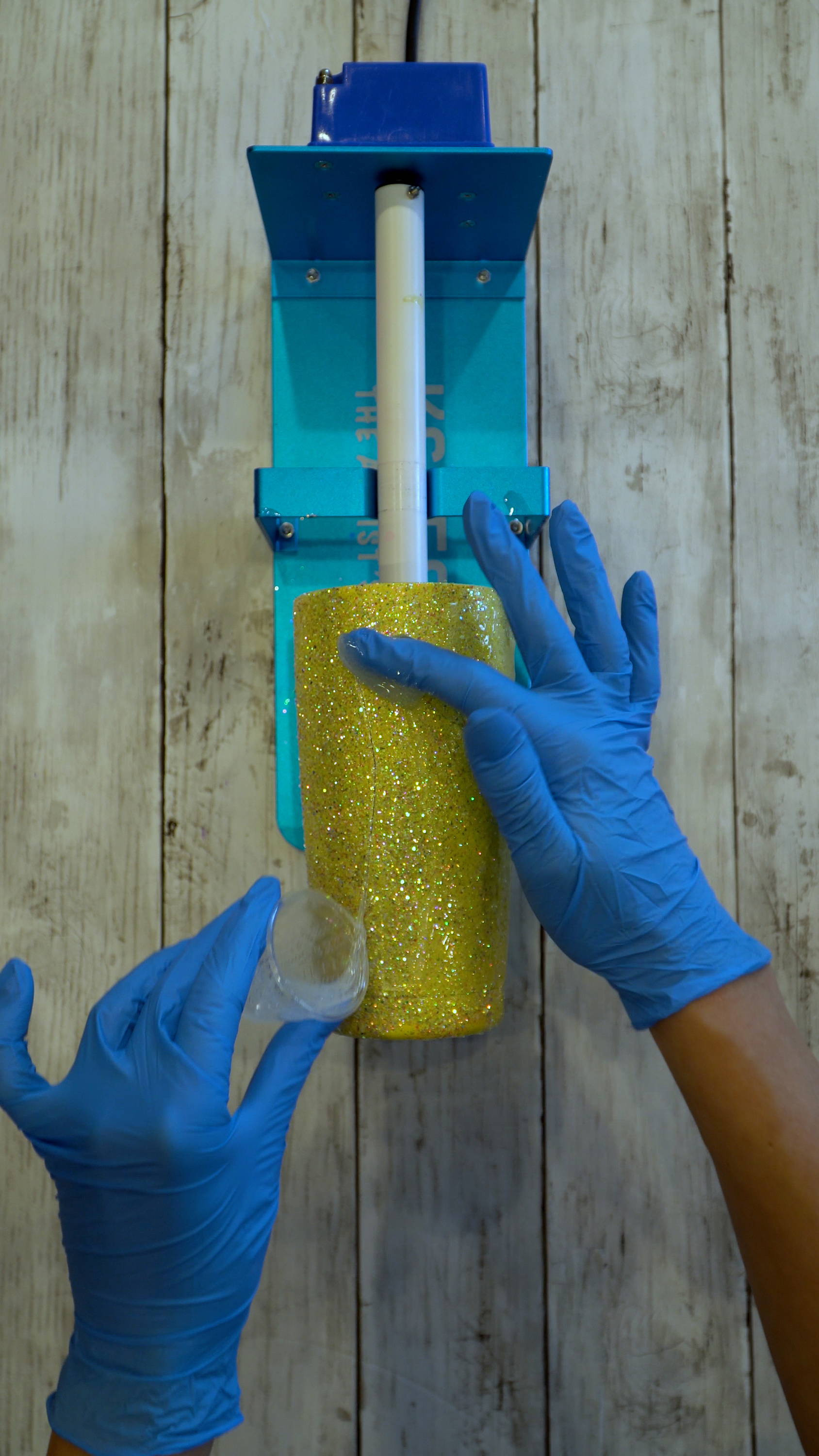 ---
Applying Vinyl to Your Glittered Epoxy Tumbler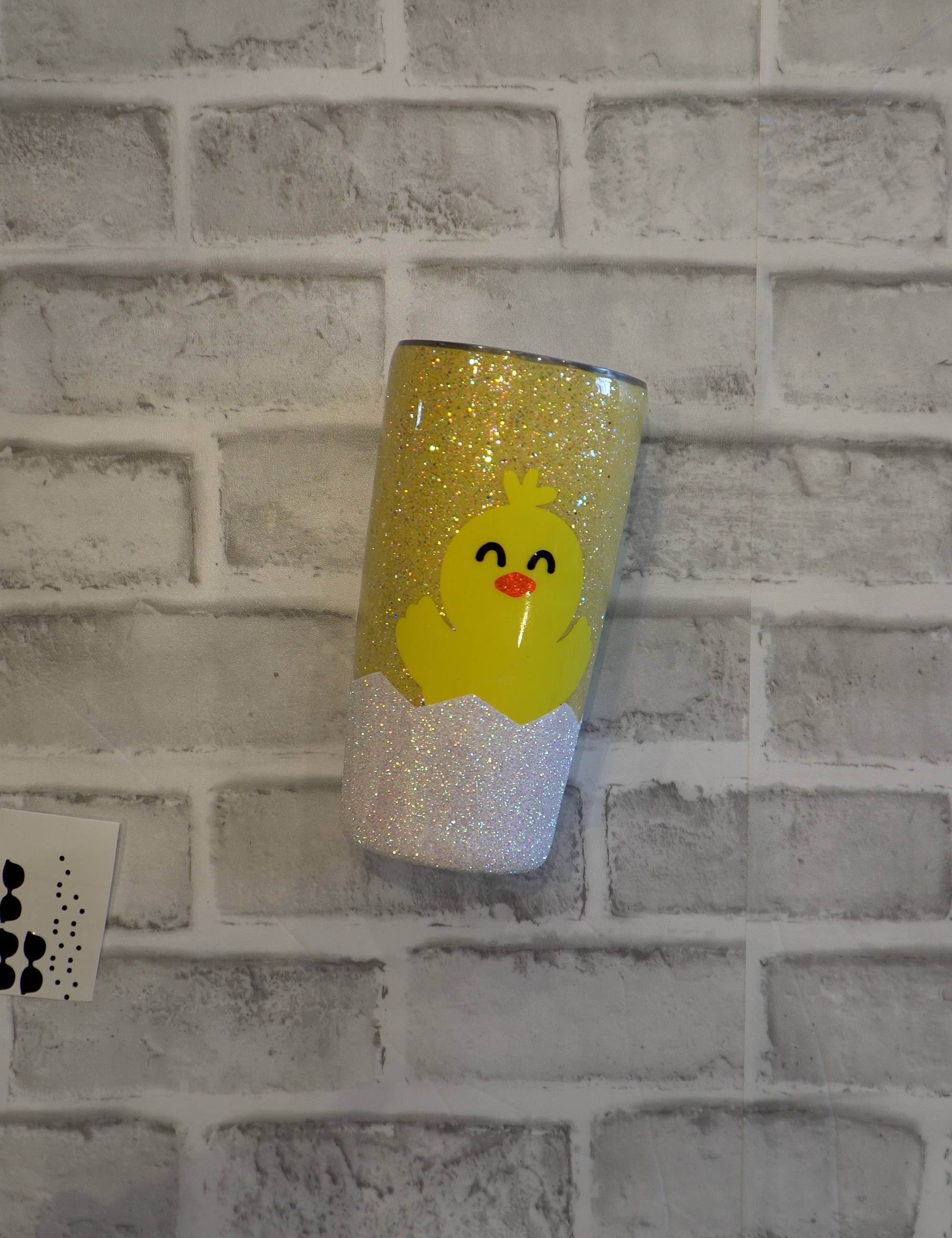 After our epoxy resin has cured, we are going to apply vinyl to the glittered tumbler. Peel your design from the backing and apply it directly to the glittered tumbler.
We printed out a cute chick vinyl and cut it with the Cricut Explore. Once it was applied to our glittered epoxy tumbler we painted the bottom white, applied some more epoxy resin, and then applied white glitter just like we did in the first steps!
If you applied additional epoxy resin on this step be sure to wait at least 4 hours before continuing to the next step.
---
Apply the Final Layer of Epoxy Resin
Our final step for making a tumbler with epoxy and glitter is a final layer of epoxy resin.
Put the glittered epoxy tumbler back onto your cup turner arm and turn the cup turner on.
Grab your Liquid Art Epoxy Resin and mix another 15ml of Resin and 15ml of Hardener thoroughly. Once again, you don't want to see any ribbons in your mixture!
Using your gloved hand apply epoxy resin directly to the surface. Coat the entire surface with epoxy resin and smooth it out with your gloved finger.
Allow the Liquid Art Epoxy Resin to cure for 24 hours before handling, and 72 hours for a full cure.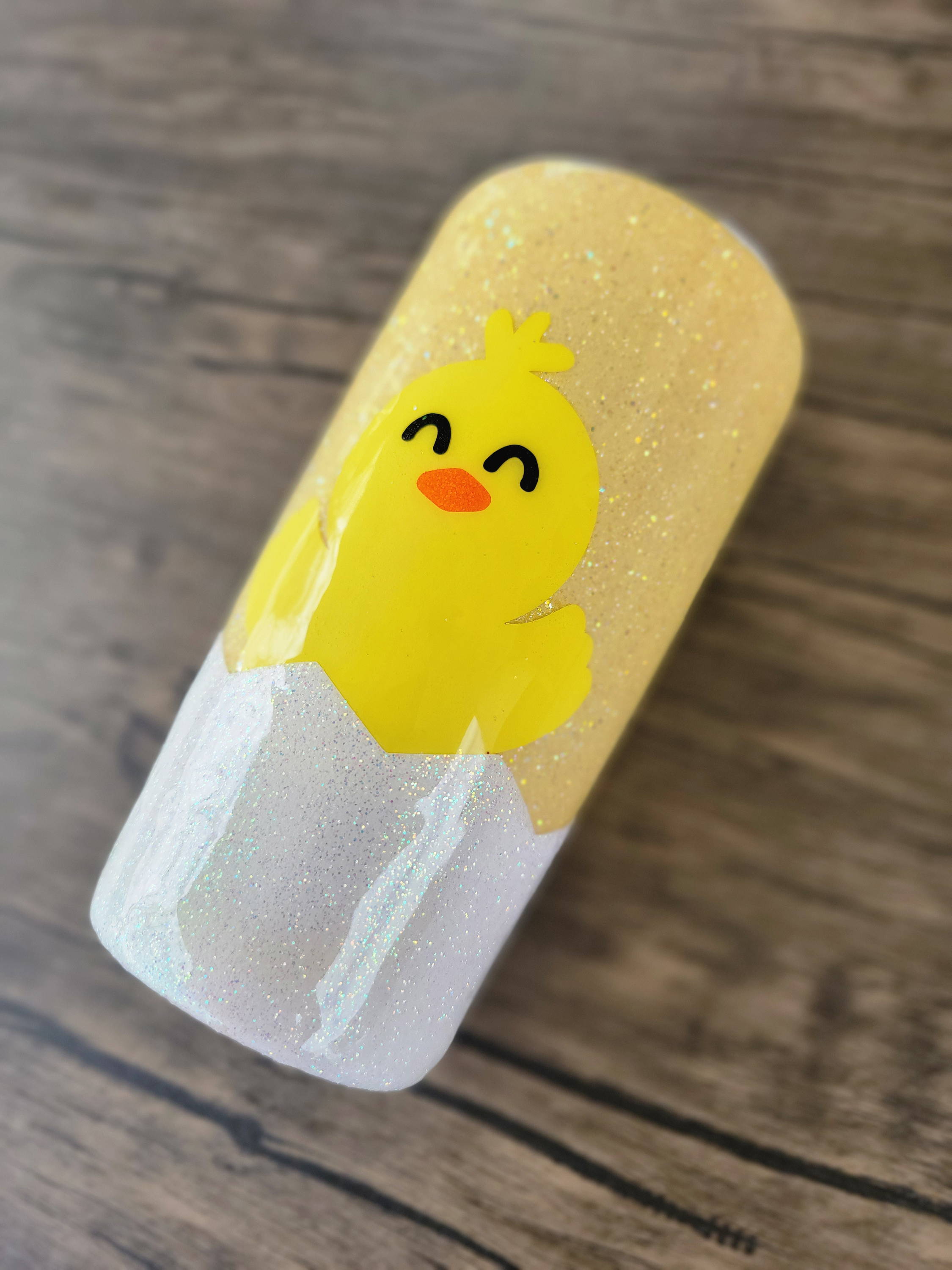 ---
Your Very Own DIY Glitter and Epoxy Tumbler is Complete!
There are so many fun designs that you can use on your DIY epoxy tumblers, it's truly endless. They are perfect gifts for friends and family, many of our customers even sell them in shops, at craft fair booths, on their Etsy stores, and so many other places. We hope you had fun!
Shop Our Best Selling Epoxy Resin for Tumblers
---